Screaming Frog: An Ultimate SEO Tool
Screaming frog is an awesome software or tool which is absolutely free upto 500
URLs and it is going to help a lot for the SEO of the website. This is a highly
recommended tool in terms of getting clients, auditing websites, and the other things
regarding SEO. Not only for SEO, it is very useful for web developers also but today
we will tell you for the SEO perspective only.
First thing download the screaming frog from https://www.screamingfrog.co.uk/ and
install it. You might find it a little confusing at first but believe me, it is going to save
you from lots of mistakes while doing SEO of your site. So let's start exploring it: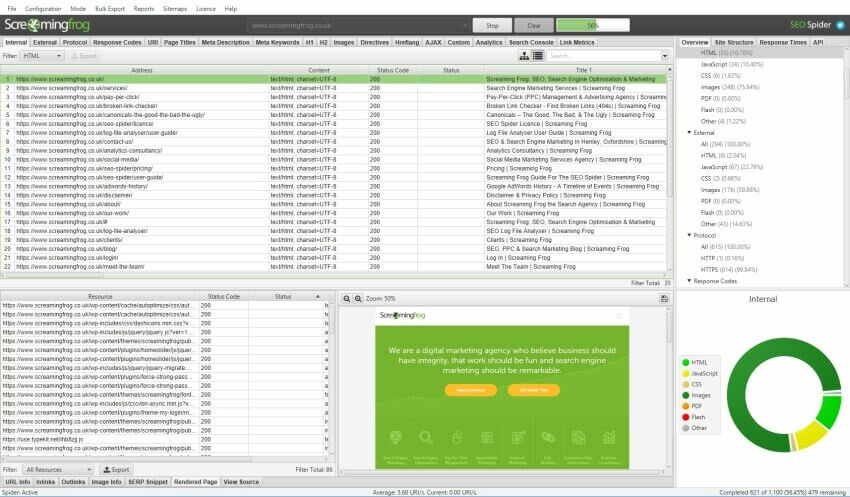 1. Website Crawling:
When you enter the URL of your site to spider and press start button, then it will
show you all the elements as title, description, keywords, h tags, alt tags, robots.txt
and everything related to SEO. If you want to crawl additional subdomains, you
need to check the Crawl All Subdomains box under Configuration > Spider.
2. Response Codes:
You can check the HTTP status codes under the 'Response Codes' tab. The most
important HTTP status codes are:
 200: OK
 301: Permanent redirect
 302: Temporary redirect
 404: Not found
 500: Server error
 503: Unavailable
PRO TIP: Fix 404 error or it will have a bad impact on your site and business.
Fix it by implementing 301 redirect to a relevant page.
3. URLs:
Analyse the URLs of your website via the URL tab. In Terms of SEO a good URL is
short (preferably only four to five words) and descriptive. And also take a look at the
filters for non ASCII characters, duplicate, uppercase, underscores, and dynamic
URLs. These elements can all cause indexation problems, so it's best to solve them
as soon as possible.

4. Page Titles:
It will show all the details about titles along with the page link like how many titles
you have in your site, missing titles in pages, duplicate titles, over and below
character and pixel limit titles, same as H1 title, and multiple title. If anything from
mentioned appears in your website's title then fix it. It makes it so easy to correct all
the wrong titles for giving your site a new growth.
5. Meta Description:
As like page titles you are able to see your page's Meta Descriptions also with all the
SEO element as how many pages contain description or how many not. Pages with
duplicate or multiple descriptions and the character and pixel limitations. Screaming
Frog has a feature called SERP Snippet tab at the bottom of the screen where you
can instantly change the Title and Meta Description.
6. Meta Keywords and H1, H2 Tags:
Again you can get the details about your keywords and H1 and H2 tags. How many
are them missing, duplicate, and multiple.
PRO TIP: You can add competitor's URL for better keyword suggestion.
7. Images:
Images can be a reason to slow down the speed of a website so it become very
important to keep them under 100kb. Screaming Frog shows you your images which
are over 100kb and along with this, it also shows the images without alt-text so you
can fix them easily.
8. Directives:
You can see the information about the meta robots tag, canonical links and
rel=next/prev annotations in the Directives tab. If you see your report empty it
means that you need to implement the appropriate tags when necessary.
NOTE: You can create XML SITEMAP also using Screaming Frog. You'll find this
feature in the top navigation bar under Sitemaps > Create XML Sitemap.
Conclusion:
Screaming frog is the best tool for me for so far. You can analyse almost everything
for your On-Page SEO elements such as page titles, meta descriptions, URL
structure, response codes, images, etc. The best part is that it is completely free and
helps in optimizing website's speed and performance resulting getting more clients
and growth. In my recommendations it is a mandatory tool every web designer should have.